---
If you want to sell your Sierra West home for the most money in the shortest time, you need an effective plan and Realtor who understands how today's buyers buy. After studying how Sierra West home buyers buy, we've put together the most comprehensive home selling program proven to get Sierra West home sellers the most money in the shortest time. Here's how…
Pricing Your Sierra West Home to Sell Faster
Pricing a home is an art form. Set a price that's too high and you'll run the risk of losing serious buyers. Set a price that's too low and you'll lose money. To make sure you set a price that will get you the most money, we've devised a 5 step pricing process.
Step 1: We'll Go Inside Your Sierra West Home
Its pretty difficult to help price something we've never seen, so we'll ask you to show us around your Sierra West home. That would be a great time to point out any repairs or improvements you've made and also any known repairs you do not plan to fix.
Step 2: We'll Explain the Sierra West Real Estate Market
All real estate is local. Relying on sources that generalize the real estate market in large geographical areas can result in improper pricing. We'll show you what's going on in Sierra West with stats, charts, graphs and data. Then, we'll explain what that means to the sale of your home.
Step 3: We'll Take You Inside Similar Sierra West Homes for Sale
Buyers will see, on average, 15 homes before they decide to purchase one. That means, they'll compare your home to at least 14 other Sierra West homes and choose the home that's the best value. Seeing the competition before we set a price will help us position your home as the best value on the market and attract more potential buyers.
Step 4: We'll Explain the Importance of a Google Friendly Price
Google and the Internet has changed the way we do everything – even how we price homes.
Step 5: Set a Price Designed to Get You the Most Money
Armed with all of this information, we can set a price that will help you get the most money in the shortest amount of time for your Sierra West home.
Best Marketing Plan for Your Sierra West Home
Once we've set an effective price, the next step is to let prospective buyers know your home is for sale. Simply putting your home on the MLS (Multiple Listing Service – database Realtors use to list homes for sale) is no longer enough. To reach the most number of buyers, we'll implement the most comprehensive marketing plan designed to market your home to potential buyers – wherever they're looking.
90% of Central Texas Home Buyers are Internet Buyers
The Internet has changed the way we buy and sell Sierra West homes. 90% of Central Texas home buyers are Internet home buyers. Thus, we've designed a large percentage of our marketing program to reach those buyers.
Professional Photography and Virtual Tours
88% of Central Texas home buyers use photos and 67% of Central Texas home buyers used virtual tours to identify homes they wanted to see in person, which means photos can make or break a potential buyer's decision to visit your Sierra West home. To show your home in the best possible light, we hire a professional photographer and virtual tour company. Photographers know the proper angles and lighting that will make your home stand out and attract potential buyers.
Custom Website Marketing Your Sierra West Home Only
We build a fully custom, search engine friendly website that markets your Sierra West home only. These custom websites are packed with Sierra West neighborhood info, interactive maps, school info, virtual tours, photos and a detailed description of your home. Our custom home websites are averaging over 8 minutes and over 6 pages per visitor. In web time, this is an eternity.
These custom websites work to engage potential home buyers, give them the information they are looking for and encourage them to schedule an in person tour of your home. The more information we can give a buyer about your home and Sierra West, the more likely they are to visit your home.
Marketing Your Home to Sierra West Realtors
Realtors are the #2 Way Buyers Found their Home
How do we reach Realtors who work with Sierra West home buyers? We fill out a complete and correct MLS listing. Sounds pretty obvious, right? You'd be surprised how often MLS data is incorrect or incomplete.
Sierra West Custom Real Estate For Sale Signs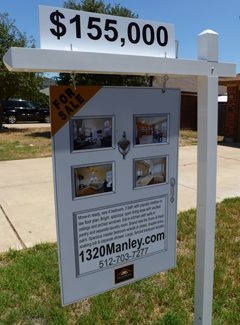 Traditional methods teach Realtors to place billboards with their company's logo in a seller's front yard. Though the sign indicates your home is for sale, it gives no additional info about your home.
Buyers today are looking for information and they want it instantly. Our custom for sale signs include interior pictures of your home, a detailed description, your home's URL and the price. Our business is selling homes, not making a big name for our brand.
Will the for sale sign that goes up in your yard tell your home's story? Or your Agent's?
Our Proven Plan Sells Your Sierra West Home Faster
By combining our unique five step pricing plan with our proven home marketing plan, your Sierra West home will sell faster and for more money. Sounds simple, right? When you have the right marketing plan and set the right price, selling your home isn't complicated or stressful. If you want to get your Sierra West home sold faster and for more money, call us at (512) 827-8323 to set up a no obligation consultation.
Sierra West Home Seller's Guide
Want to read more about how we help Sierra West home sellers get more money in the shortest time, check out Selling a Sierra West Home.
Ready to Sell Your Sierra West Home?
Call us at (512) 827-8323 or email us at info@SierraWestDriftwood.com to schedule a no obligation consultation.
Contact a Sierra West Realtor Specializing in Selling Homes
As Sierra West real estate experts, we can help you sell your Sierra West home faster and for more money. To get started with our home selling program, simply fill out the form below and one of our Sierra West Realtors specializing in selling Sierra West homes will contact you as soon as possible.